Corporeal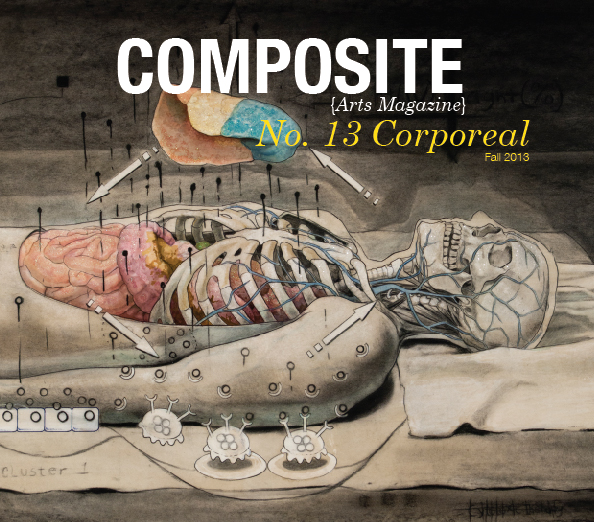 No. 13 Corporeal
Fall 2013
These bodies we're in, they are incredibly well-oiled machines.  We function on a basic level with barely any effort: strolling across a courtyard we admire buildings without any attention to our feet; we breathe without thinking; our hearts keep a steady beat throughout the day and while we sleep.  There are countless things we are able to do without ever having been taught how to do them: we go through puberty; women's breasts create nourishment, their bodies sew new life; men create fluids for those new bodies, those important new vessels.    
With each new generation our bodies search for ways to improve their efficiency.  We grow taller and live longer; we change constantly.  Our hair grows and we cut it­—sometimes, we keep it.  Records exist.  On the surface, old skin is dusted off every time we bathe; as we grow our insides are pushed outward, our organs enlarging.  Our faces become more chiseled versions of our youth, bearing resemblance to those that made us.  
We are strong, we are resilient, we are self-reliant, but we are not immortal.  A pierce, slice, or pound in the wrong spot can end a life forever.  As we live longer, our bodies have become susceptible to internal growth, the proportional decomposition of our most valued assets.   Cancer crowds and attacks our insides; dementia erases our memories and the ability to perform the most basic of functions.  Like any machine, we are not meant to run forever; our bodies will eventually fail.  Sometimes, we donate parts of ourselves for another.  Sometimes, our parts are dissected, studied, placed in jars, so the world can see how they work: how we work. 
Contributors
Maude Larke has come back to her own writing after working in the American, English and French university systems, analyzing others' texts and films. She has also returned to the classical music world as an ardent amateur, after fifteen years of piano and voice in her youth. Winner of the 2011 PhatSalmon Poetry Prize and the 2012 Swale Life Poetry Competition, she has been published in Oberon, Naugatuck River Review, Cyclamens and Swords, Mslexia, Cliterature, and Short, Fast, and Deadly, among others.
Robert Amador is a painter, drawer, toy maker, and print maker currently living and working in Fresno, California. The lack of distractions, and ever evolving landscape inspire and inform his work. His work can be seen at www.robertamador.com.
Anne Wolf is a sculptor, installation and community artist who works with fiber, cloth, clay and natural and found materials. Her mixed-media sculptures and public, site-specific installations have been exhibited nationally and internationally. Her community projects have included "Seed Project" with the Emeryville Youth Arts Program and "Presence and Absence," in collaboration with Zen Hospice Project and the Center for Art and Public Life. She teaches at California College of the Arts in the Textiles program. Her work can be seen at www.studio-annewolf.com.
Linda Umans enjoyed a long teaching career in the New York City public schools. She is a native of Manhattan where she lives, studies, writes. Recent publications include poems in qarrtsiluni, YB, Terrain.org, The Broome Street Review, Theodate, DIALOGIST, Switched-on Gutenberg, and pieces in Mr. Beller's Neighborhood and Literary Bohemian.
Lisa Nilsson is a graduate of the Rhode Island School of Design where she studied Illustration, and more recently of the McCann Technical School's medical assisting program, where her lifelong aesthetic interest in anatomy and cool-looking medical things grew a bit more informed. She lives in North Adams, Massachusetts. her work can be seen at www.lisanilssonart.com.
Annie Heckman is an artist and educator whose work explores mortality through animation, installation, drawing, and writing. Born in Chicago, Heckman received her BFA in Studio Art in 2002 from the University of Illinois at Chicago, and her MFA in Studio Art in 2006 at New York University's Steinhardt School. She works with School and Teacher Programs at the Museum of Contemporary Art Chicago and currently serves as Visiting Assistant Professor at DePaul University. Her work can be seen at www.annieheckman.com.
AprilJo Murphy A 2012 finalist for the Richard J. Margolis Award, April Jo Murphy is a doctoral candidate in creative writing at the University of North Texas. She currently serves as the Web Editor for American Literary Review. Her writing has been published in Animal: A Beast of a Literary Magazine, Hippocampus Magazine, Mason's Road, and The Irish American Post. April is currently working on her first big project: Pangender Menace. She lives in Denton, TX with her dog Roan and can be reached at www.AprilJoMurphy.com.
Michael Reedy received his MFA in painting from Northern Illinois University in 2000. His work has been included in over 100 national and international exhibitions and can be viewed in numerous private and institutional collections, including Clatsop Community College, Minot State University, Shippensburg University, and the San Diego Art Institute. He currently lives in Michigan and teaches drawing at Eastern Michigan University. To learn more about his work visit www.mikereedy.com.
Jordan Eagles is a New York based artist who preserves blood to create works that evoke the connections between life, death, body, spirit, and the Universe. His work can be seen at www.jordaneagles.com.
Marc Consolazio was born and raised in Chicago, and has spent his whole life trying to capture the strange images and thoughts that pass through his mind and store them in word form – however perverted they become in the process. A graduate of the Art Institute of Illinois with a BFA in Digital Media Production, in his free time Marc enjoys basketball, Moe Szyslak quotes, and petting bunnies.
Vesna Jovanovic addresses the human body as a socially constructed and individually experienced event. Her practice involves both chance operations and traditional visual forms such as scientific illustration. Jovanovic holds degrees in ceramics, chemistry, studio art, and photography. Her work appeared in various publications such as Newcity, Time Out Chicago, Seed Magazine, Discover Magazine Blogs, and Art:21 Blog. She is thrilled about this opportunity with Composite, and invites you to view more work at www.vesnaonline.com.
Alison Carey has exhibited her work in museums and universities throughout the United States. Recent exhibitions include solo shows at the Griffin Museum of Photography and the International Museum of Surgical Science. Carey has an MFA from the University of New Mexico and is currently an assistant professor of photography at Columbia College Chicago. Photographs and sculpture from New Kingdoms will be on exhibit September 8 – October 5, 2013 at Riverside Arts Center Freeark Gallery, Riverside, IL. www.riversideartscenter.com.