Reprobates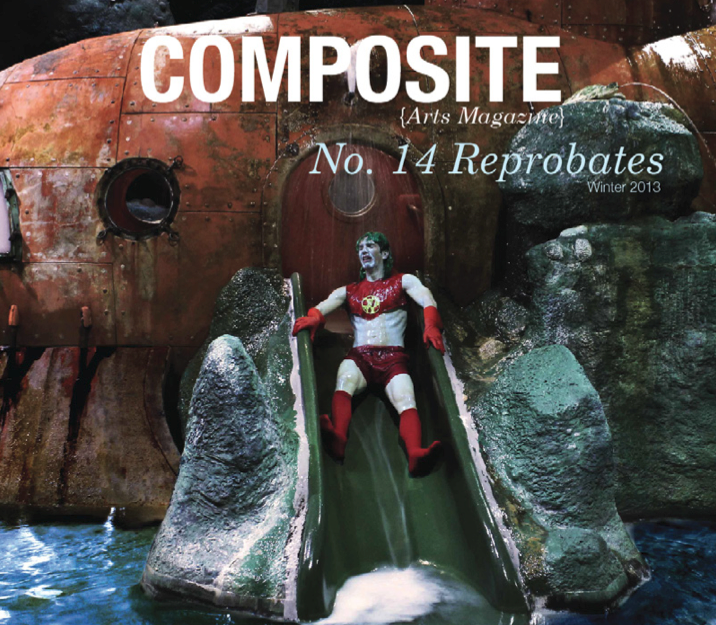 No. 14 Reprobates
Winter 2013
For some it is a way of life and for some it is merely an occasional indulgence. For others…. well, they are just better at hiding it. We all have our guilty pleasures, our vices. We all have weaknesses that we can't say no to: that evening nightcap, one more drag off that cigarette, that Carlie Raye Jepsen song, that vintage couch from yet another estate sale, that warm body sleeping next to you.
We have the capability to control these desires, to harness them for our own good. An insatiable taste for animal fats and butters can carve out a refined palate and give you a tool for critical or creative success, but too much could stop your heart. An excess of opium with your wormwood could cause you to cut off your ear.
We are all scoundrels. We are all constantly making excuses. In the light of day, there are simple pleasures we partake in, all the while knowing that people are watching us, judging us, as we enjoy them—a bloody mary at Sunday brunch, or Tuesday at noon. But judgment is subjective. Right and wrong can be flexible. Should and Should Not ebb and flow by location, culture, and generation. One woman's casual relaxation can be another's abomination.
We are reprobates. It doesn't mean we won't partake, it means that if the wrong people find out—socially, professionally, spiritually—we're damned.
Contributors
David Fullarton is a Scottish born, San Francisco based visual artist specializing in works that combine images with text. Fullarton's inspiration is the often overlooked banalities of daily life and the ways people manage to find joy and meaning in the minutiae. His drawings work as small vignettes, featuring a forlorn cast of misfits and reprobates who find themselves in compromising situations. His work can be seen at The Compound Gallery in Oakland, and online at www.davidfullarton.com.
Eva Langston received her MFA from the University of New Orleans, and her fiction has been published in The Normal School, The Sand Hill Review, and the GW Review, among others. Currently she works as a Skype tutor for Ukrainians and a math curriculum consultant.
Hank Feeley is a painter/sculptor moving between studios in Florida and Chicago. Paradoxically, he is a graduate of both Harvard Business School and The School of the Art Institute of Chicago. He is represented by First Street Gallery in New York and Packer Schopf Gallery in Chicago.
Susan Doherty is a freelance writer who recently relocated to Colorado from Illinois. While she misses the deep dish pizza and the Chicago live lit scene, she is willing to concede that mountain life agrees with her.
Dagmar Hrickova, a Czech Republic born visual artist, has lived her life as somewhat of a nomad, taking inspiration from her ever changing surroundings to create conceptual and thought provoking art. Her art is dark and images are often left in an unfinished state; surfaces are scratched and streaked, giving them a sense of freshness and urgency. She's currently returned to New York from her assignment in South Africa.
Christopher Herron is a graphic designer specializing in corporate branding. He is fascinated by evolution, space exploration, stand-up comedians, and The Golden Girls, and is obsessed with beverages of any kind. His work can be seen at www.chrisherrondesign.com.
John Thomas Menesini is the author of The Last Great Glass Meat Million (Six Gallery Press, 2003), e pit ap h (Six Gallery Press, 2007), and endo Poems and Sketches 2007 – 2011 (Six Gallery Press, 2011). He also appeared in the anthology Honeysuckle, Honeyjuice: A Tribute to James Liddy (Arlen House, 2006). He lives among the filth & throng of Manhattan.
Jake Myers (b. 1985) is a Chicago-based artist, athlete and educator. Like most able-bodied suburban boys, Myers found validation in sports and expressing manly qualities. Eventually, Myers "woke up" and realized how strange these social constructs were and intentionally misbehaved in athletic contexts. He now creates work that pokes fun at athletic pageantry and failed hyper-masculinity. His work can be seen at jakemyers.us.
Jason Zeimet is a Regional Sales Manager for a Major Food & Beverage Company. While on the road for his job, Jason also makes a web-series called #TheTravelogue, based on finding and filming "all of the hidden/esoteric places in America you never knew you needed to see." He lives in Seattle, WA and Denver, CO with his wife Emily and cat Baby. Discover his series at http://thetravelogue.net.
Jennifer Mills received her MFA in performance from the School of the Art Institute of Chicago in 2011. Currently teaching in the Department of Contemporary Practices at SAIC, Mills is also an artist in residence at the Chicago Artist's Coalition and a regularly performing comedian. Mills has widely exhibited her work across the United States and in Germany.