Pattern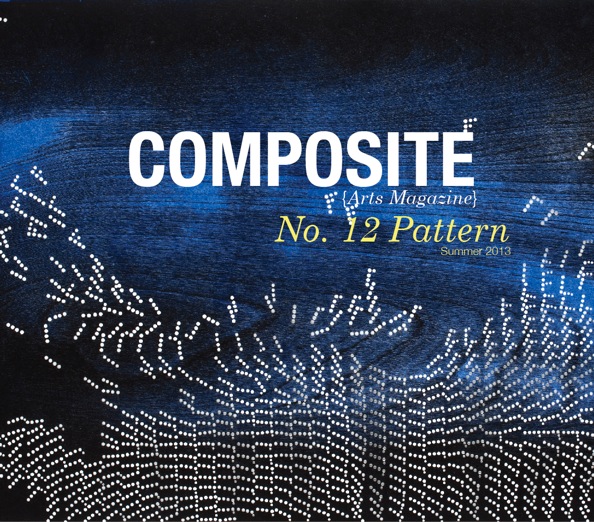 No. 12 Pattern
Summer 2013
We exist in a world of algorithms and codes.  Defined systems are involved in almost every interaction and activity we participate in daily: a strategic placement of zeros and ones allow us to make calls, search the internet, watch the nightly news, and play Angry Birds. Before technology existed as it does today, tapped dots and dashes allowed people to communicate from long distances.  We also communicate through music in patterns of meter and rhyme.  We frequent the same locals.   We are creatures of habit; we live within a pattern.
Beyond any of our human constructs, nature follows a pattern all around us. Withstanding a repetitive variation, the sun will rise and set expectedly everyday. Seasons progress, spring summer winter fall, as they have since we began recording them. Everything is born, and everything dies. Codes in our DNA–mapped successfully through the Human Genome Project–make it possible for us to know one in every two-hundred men alive today is a direct descendant of Genghis Khan, circa 1200 AD.  A cicada will lie dormant for seven years, only to come to life with millions of their cousins to breed, plant their seed, and die a month later.
The truth is we find comfort in the pattern.  This sentence is a pattern.  Our entire knowledge base is constructed around the Scientific Method, a system that strives to find natural patterns while eliminating as many variables as possible.  We plan our life around what we expect to happen based on what has happened in the past.  We arrange our living rooms and bedrooms with some semblance of symmetry in mind.  We avoid wearing plaid and polka dots together, because it looks funny.
Contributors
Ludwig Abache is an architectural photographer. His work can be seen at photographsofarchitecture.com.
Amber Sparks is the author of the short story collection May We Shed These Human Bodies, and of the forthcoming hybrid text The Desert Places, co-authored with Robert Kloss and illustrated by Matt Kish.
Edra Soto (b. Puerto Rico 1971) is a Chicago based artist. She obtained an MFA from the School of the Art Institute of Chicago. Soto's work has been exhibited nationally and internationally. She has been featured in New American Paintings and The Museum of Cotemporary Art of Chicago.Soto and her husband Dan Sul- livan design, fabricated and currently run operations of The Franklin, an artist run exhibition space located in their home's backyard in East Garfield Park, Chicago. Upcoming exhibitions include et aliae at Galeria Agus- tina Ferreyra in Puerto Rico and Front & Center at The Hyde Park Art Center. See her work at edrasoto.com.
Tallulah Terryll is a painter/ printmaker with a penchant for slow repetitive work. Terryll received her BFA from Cornish College of the arts in 2003. After a brief stint in Japan she moved to Oakland, CA where she lives and works. See her work at tallulahterryll.com.
Clinton Van Inman was born in England in 1945. He received his BA from San Diego State in 1977. He's still teaching high school in Tampa Bay but plans to retire this year. He lives in Sun City Center, Florida with his wife, Elba.
Anne Albagli's work has been exhibited domestically and internationally. She has organized and executed public and social practice projects in the U.S. and the Middle East, including, most recently, The Paradise Project. This fall, she exhibited a site-specific installation, Bridging the Light, in the Corcoran Gallery of Art and unveiled an interactive installation at the Art Museum of Americas. Annie is currently in Residence at the Kala Art Institute. To learn more about her work visit anniealbagli.com.
Jillian Fisher is a designer, illustrator and stuff-maker hanging out in Chicago, IL. You can find more of her work at www.sometimesidraw.net or follow her current, ongoing project at logosfornothing.tumblr.com.
Jami Nakamura Lin is an MFA candidate at the Pennyslvania State University and a nonfiction editor at Revo- lution House magazine. A Pushcart Prize nominee, her work has appeared or is forthcoming in Monkeybi- cycle, r.kv.r.y, Escape Into Life, Rock & Sling, Nanoism, Ginger Piglet, Niche, Airplane Reading, Thunderclap Press, Prospective, and Short, Fast, and Deadly.
Jennifer Hines incorporates the idea of life balance and personal narrative into her artwork using images of the human body, symbols, and the written word. Jennifer has shown her work at various locations in the Chicago area and nationwide in solo, group, and juried shows, and has recently shown at Roman Susan Gallery, is an artist participant of the ongoing Feedback Series interdisciplinary art event series. Her work can be found at jenniferhines.net.
Krista Wortendyke (b. 1979, Nyack, New York) is a Chicago-based conceptual artist. She received her MFA in Photography from Columbia College in 2007. Her ongoing work examines violence through the lens of photography. Her images are a result of a constant grappling with the mediation of war and brutality both locally and globally. Krista is currently an adjunct professor of photography at Columbia College Chicago and Northeastern Illinois University.
John Brown Spiers is a teacher living in Athens, GA.
Susan Goethel Campbell is a Detroit-based artist. Her multi-disciplinary works have been exhibited in numerous solo and group exhibitions throughout the United States and abroad, including the Drawing Center and the International Print Center in New York and the Museum of Contemporary Art in Detroit. She is currently in an exhibition in Wolfsburg, Germany and will be launching a year-long project, Portraits of Air: Pittsburgh in June, 2013. See susangoethelcampbell.com for more information.
Alan Jaras has always had a fascination for visualising the invisible. A long career in industrial research as a scientist and photomicrographer enabled him to explore and study many aspects of the material world. Now retired, he has developed a novel technique of lensless photography to create 'Refractographs' – a new style of Light Art. Through this art form, and with continued experimentation, he now explores the strange and beautiful world of refraction patterns. See his work at alanjaras.com.
Nilupul Bulathsinhala is a student at the Louisiana School for Math, Science, and the Arts. He will be graduating this year.