Out of Site: Public Performance in Chicago's Wicker Park
This past Friday, October 12th, Kara and I went to the busy six corners intersection in Wicker Park to witness five performance pieces curated by future contributor (for Issue No. 10 Interact) Happy Collaborationists. The curated performances, called Simultaneous Narrative, was a good variety of unexpected, edible, and poignant. I can imagine that the experience would be even more magical for the people who didn't see it coming.
Here are the performances we saw:
Erik Peterson (No. 4 Doppelganger contributor) "Soft Palate"
Strawberry flavored ice cream in the shape of the human soft palate (mouth, teeth, tongue and throat) were sold from an ice cream cart for only twenty-five cents.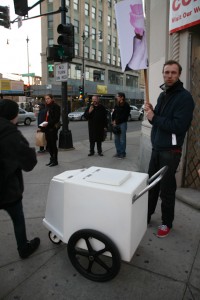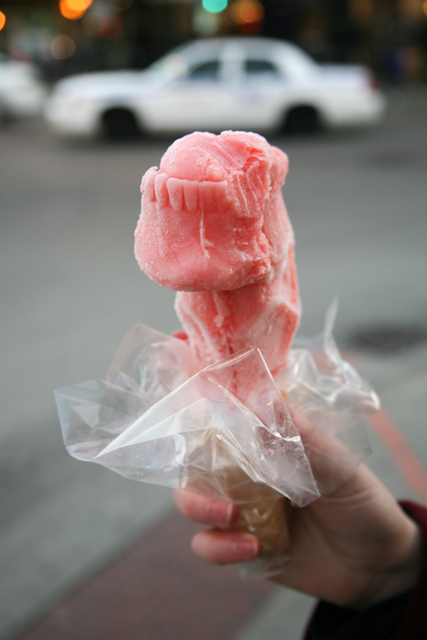 Claire Ashley "Ruddy Udder Dance"
This psychedelic conga line had to squish its fluffy way through some narrow sidewalks.
Shane Ward "One Wheel No Axle, AKA Part 1″
Shane Ward pushes and rides in a full scale replica of the Price is Right wheel.
Marcus Vinicius "Fragile," performed by Andrew Meyler
A guy wrapped in "fragile" tape would normally seem gimmicky, but this memorial performance seems to take on more meaning.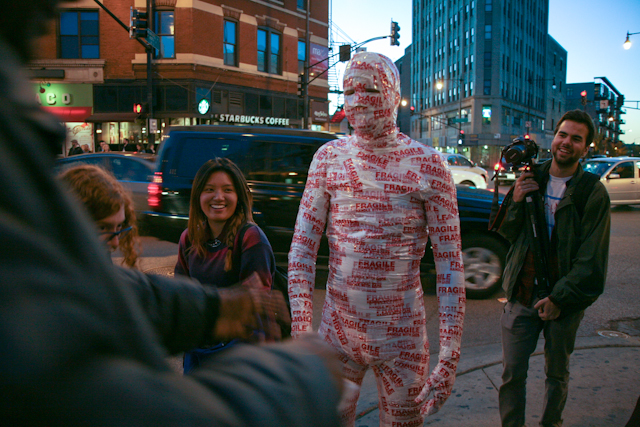 Jesus Mejia and Ruth ".00011048 miles"
These collaborators laid the length of the street, tracing bodies along the way. Looked like one weird crime scene.