Regin Igloria on North Branch Projects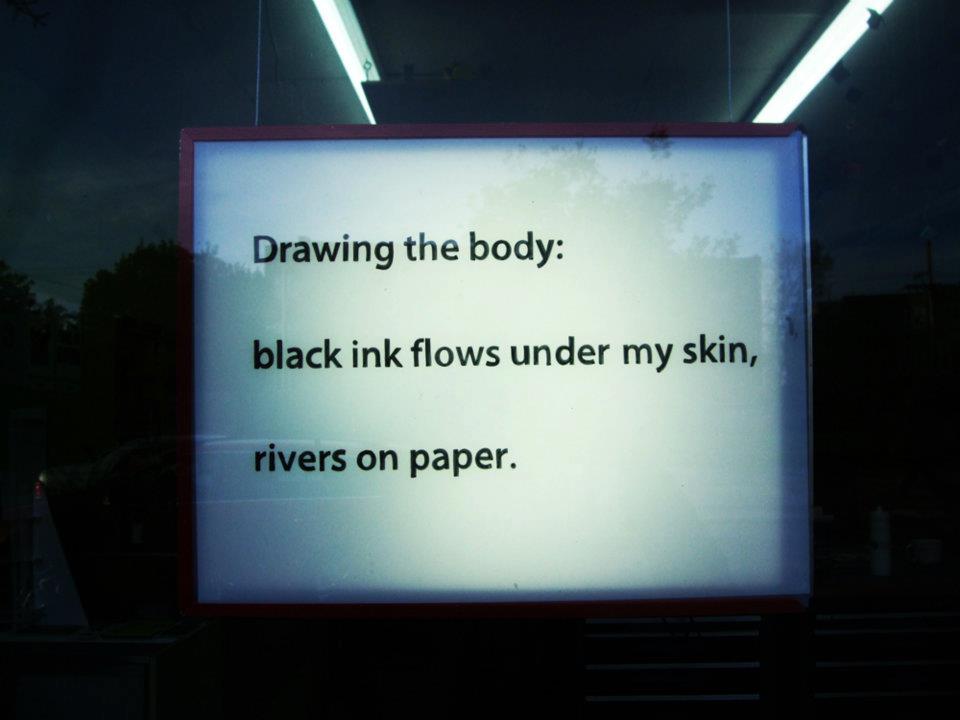 Haiku No. 30, April 22, 2012.
One of what will be Guillermo Delgado's 100 haikus for his Haiku-In-Residence project with North Branch.
I've had the privilege of having No.7 You Are Here artist Regin Igloria as a teacher at Marwen, just one of the places where he has taught.
In addition to being an artist and teacher, Regin is the Director of Artists-In-Residence at The Ragdale Foundation in Lake Forest, IL, and in September 2010 he founded North Branch Projects, a community bookbinding space in the Albany Park neighborhood of Chicago, IL.
After the release of No. 7 You Are Here, Regin answered a few questions about his experiences so far with North Branch Projects, including an ongoing project by Guillermo Delgado being shown there, "Haiku-In-Residence: Daily Conversations with Nature." The Haiku project will also include a workshop on Sunday May 20th. (See more information below.)
Composite: What inspired you to start North Branch Projects?
Regin Igloria: I was very frustrated with my relationship to the contemporary art world, mostly because the people I grew up with were not involved with the part of my life that involved art and art making. The further I pursued a career in the arts, the more I seemed to move away from those important people. I wanted to create a crossover, a place where everyone could see the value of creativity in their lives and in society as a whole. I took everything that I know and love—teaching, making books, and hanging out with others—and put it all together in a storefront where I could continue to share it with others.
CO: What are your main goals for the organization?
RI: The main goal of North Branch is to bring people together to share their work, ideas, time, energy, skills, and drive with other people in an inviting setting. We want to allow people the opportunity to make something that is beneficial on many levels, and get them excited about it. Hopefully it will make their day. The book arts just happens to be the way we choose to make it happen.
CO: What has been most surprising to you in your experiences with North Branch Projects so far?
RI: The most surprising thing has been how appreciative people have been about being in the neighborhood. They literally say "thanks for being here," which goes a long way. I've never doubted how important art is, but since I've started operations at North Branch, I am that much more a believer in the gift economy, the value of conversation, and the deeper meaning of community.
CO: Where do you see the organization going in the future?
RI: I would like to see North Branch become completely immersed in the Albany Park community, which means becoming a creative resource for all of my neighbors, especially the families within walking distance, the local schools, and the businesses up and down Lawrence Ave. I also envision a much wider breadth of collaboration, which has from the very beginning been the most worthwhile experience of running a space like this. I'd like to work with people in fields that are in the opposite spectrum of the art world, people who are as far removed from our own practices as much as possible to see what the outcome would be. I'd like to test several theories of interaction between different people and truly challenge
not only a particular audience but also the individuals I work with and myself.
CO: What is unique about the neighborhood North Branch is located in?
RI: The unique thing about Albany Park is the mix of people. And the "mix" is really deeply rooted in how far the people want to take it: there's ethnic diversity, certainly, but I think it goes beyond trying to define where people come from. It's the one kind of neighborhood in the city where people can't be judged or stereotyped. Everyday I look out the storefront windows and there are so many kinds of people passing by—it's truly the kind of place I would want to live—I can't figure it out and that's what keeps it interesting for me.
CO: Who is North Branch Projects for, and how can they get involved?
RI: North Branch is for anyone who wants to share ideas and learn new things along the way. Even if making books isn't your thing, you can take something away from a "community binding" experience. I suggest people attend any of our community binding sessions to get involved and learn about what takes place in the studio. We offer this six days a week (Mon-Thurs 6-9 p.m. and weekends from 1-7 p.m.) and it's completely free. Over time, and through the process of making books for our Neighborhood Archive, visitors become more familiar with the working process of other artists. If the process is something that is compelling enough to take to the next level, we have classes and workshops that are offered regularly throughout the year.
CO: How did the haiku project with Guillermo come about?
RI: Guillermo and I go back a while. We have taught together and run together, and have had many long conversations. He has always been an influence on me and the work I do, so it was a natural collaboration. I noticed Guillermo posting haikus regularly on Facebook, and I thought they were quite poignant: personal and to the point. In a more universal way, he would often take into account the daily happenings of the world around him—such as the news—and make it seem that much more important to consider. I felt like this was something that should be shared with others outside of the internet.
I had the idea of using a light box as a window gallery display a long time ago. Ideally it would have been a home-made version that would be about 3' x 4' feet, but due to time and budget constraints, I just used an old light box and hung it from our storefront sign, and transferred printed text with a Sharpie onto Mylar sheets. I invited Guillermo to send me a series of haikus for about a month, but as we discussed it, he got excited about the possibility of turning this into a longer project that could be incorporated into his thesis work. He proposed to send me a haiku for 100 consecutive days, lead a haiku workshop, and help North Branch self-publish a chapbook of his collection.
CO: How does North Branch Projects relate to your personal art practice?
RI: Everything about North Branch Projects is directly related to my art practice. When I talk about the creative process to visitors and guests, I am really sharing my ideas about my own art. Physically, the space is my studio, and I live upstairs from where I work. Psychologically, I am vested in it as much as a work of art. The drawings I make are slow-going and have a lot to do with this labor of love, much like binding books. In general, every aspect of my life is based on each other. I do not separate work from life, work from play, and so on and so forth.
Here is more information about the Haiku-In-Residence project and the related
workshop:
"Haiku-In-Residence: Daily Conversations with Nature," is an artist residency project
by Guillermo Delgado in collaboration with North Branch Projects. Guillermo Delgado,
an interdisciplinary artist, reflects on daily life – annotating the wisdom in nature through
a daily practice of haiku poetry. Since March 24th, and for the 100 days following, North
Branch Projects will exhibit Mr. Delgado's sequential haiku articulations in its storefront
window. In addition, the collected texts and images will be available for viewing on
North Branch's website and on the artist's blog. A hand-bound book collection of haiku
poems will become part of North branch Projects' Neighborhood Archives and available
for viewing at the end of the residency.
Haiku Hike Workshop
Sunday May 20th, 2012 1:00 P.M. to 3:00 P.M.
North Branch Projects, 3550 W. Lawrence, Chicago
"Join us for an afternoon workshop of walking, chalking, crafting haiku, and bookmaking
in this fun and family-friendly two-hour event. With the help of artist Guillermo Delgado
and the North Branch Projects staff, participants of all ages will construct a handmade
book for their very own haiku. This event is open to the public – no registration
necessary – and donations of any amount will be accepted. All monies collected at this
event will go toward the support of North Branch Projects – a community bookbinding
facility."
For more information about the workshop and project, please visit:
North Branch's website: http://www.northbranchprojects.com
Artist's blog: http://waxingcresentmoon.wordpress.com
Email your questions to:
Guillermo Delgado guillermo@gdelgado.com
North Branch Project northbranchprojects@gmail.com