Process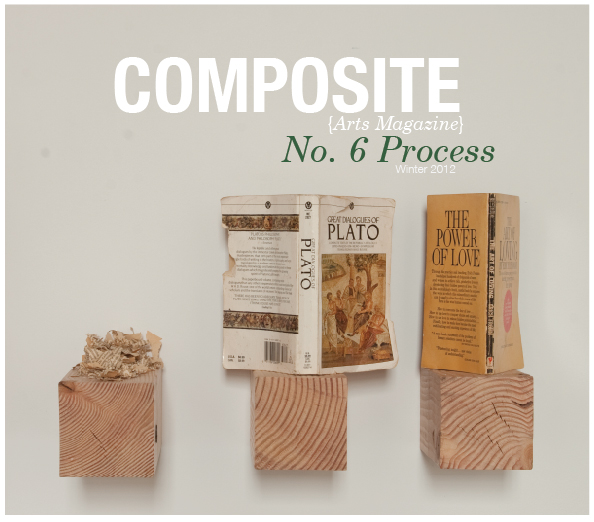 No. 6 Process
Winter 2012
Creating art is a solitary act; there is no doubt about it. You sit alone, in an office, in a studio, roam the streets for that perfect photograph. Someone pushes paint across a canvas, writes words on a page, opens a shutter and lets light in. In the most basic sense, this is how art is made.
But once the creation process is complete, art must be accessible. Art is a shared experience, the point where artists' intent and viewers' experiences meld together. And it is in this conversation that art finds its meaning. But, it is also in this conversation that the process by which art is made is lost, left only to the lonely pages of a textbook or a book on craft.
Scores of artists place a system of limitations or conditions on their work in order to create an outcome. Henry David Thoreau shut himself in a cabin for two years as he drafted Walden; Jackson Pollack painted standing above his canvas, which lay on the floor beneath him; Milan Blatny, a Czech photographer known as Fano, created images by rotating the same photograph around a canvas, exposing it four times to create a photo-mandala.
For some, the process is just another step in the equation. Yet, for others, the entire equation is about the process.
Contributors
Karen Bovinich is an installation and performance artist. She received her BFA in Fine Arts from Columbia College in 2010. In 2008, Bovinich started a collaborative live sculpture group known as Before Cake, After Dinner (BC,AD). She now participates as half of the newly formed collaboration, Jesus Mejia & Ruth and is preparing for a solo show at Roxaboxen Exhibitions, opening January 22nd 2012.  Bovinich currently lives and works in Chicago, IL. For more information, visit www.karenbovinich.com.
Aline Dargie (b. 1991, Andover, MA), curates and weaves tactile, sculptural artwork, involving indigo ikat dyed threads and painted sticks, at Make Hang Gallery in North Beach San Francisco. Aline earned her BFA from California College of the Arts in 2011.Visit www.Makehang.com and www.Alinedargie.com for more.
Sarah-Margaret Gibson born and raised in Cincinnati, OH, is a 23-year-old classical realist painter. For the past four years she has been training in Florence, Italy, learning the techniques of the Old Masters. Having first attended the Angel Academy of Art for two years, Gibson is now currently enrolled at the Florence Academy of art. To see more of her work please go to www.sarah-margaretgibson.com.
Adam Grossi is an artist living and working in Chicago. He is originally from Reston, Virginia, one of the country's first suburban environments to manifest from the utopian spirit of "new town" development. The triumphs and failures of Reston's intentional landscape have formed a kind of locus for Adam's work, which relies on reading, interpreting, and reconfiguring the meaning embedded in the conventions and rhetoric of American middle-class culture. He received a BFA from Carnegie Mellon University in 2003 and an MFA from the University of Illinois at Chicago in 2009. His work can be see at www.adamgrossi.com.
Jesse Boardman Kauppila tinkers with printmaking in the avant-garde tradition of the "bricoleur," using it to recreate records, lace, and barcodes as works of art. In this and other work he uses and imbue sobjects with historical and cultural significance. He also establishes performative processes for making art that are then enacted. And documents these processes through photography, video, and text, using these mediums to tell stories. Jesse lives in Oakland, CA. www.jessekauppila.com.
Maude Larke lives in France. She has come back to creative writing after years in the university system, analyzing others' texts, and to classical music as an ardent amateur, after fifteen years of piano and voice in her youth. Publications include Naugatuck River Review, Oberon, Cyclamens and Swords, riverbabble, 52|250, and Sketchbook.
Jeanne Lorenz draws round connections between archaic technologies using the image of the vinyl record as a symbol of our changing times. She unites industrial hand printmaking with her love of records to re-animate the so-called outmoded form of technology into a new familiar experience. Lorenz inks, prints, and paints records obtained from the big dumpster of America in an attempt to make sound waves visible. Her work can be seen at www.jeannelorenz.com.
Jessie R Morris is a sculptor, and textile crafter living and working in Chicago. She received her BFA from the University of Illinois at Chicago. More work can be found at www.jessiemorris.tumblr.com.
Dmitry Samarov drives a taxi and paints pictures in Chicago, Illinois. He's the author of Hack: Stories from a Chicago Cab. More of his cab stories can be found at http://chicagohack.com and much more of his artwork is at www.dmitrysamarov.com.
Danielle Sepulveres is a graduate of the University of Delaware and resides in northern NJ.  She works in the film and television industry in New York, spending her days working on the CBS show The Good Wife, and moonlighting as a writer/producer/director of short films for the film festival circuit.  Her debut memoir Losing It: The Semi Scandalous Story of an Ex-Virgin has just been released by Bryce Cullen Publishing.  Follow her on Twitter @ellesep.
William Staples is a painter living in Chicago.