Aberration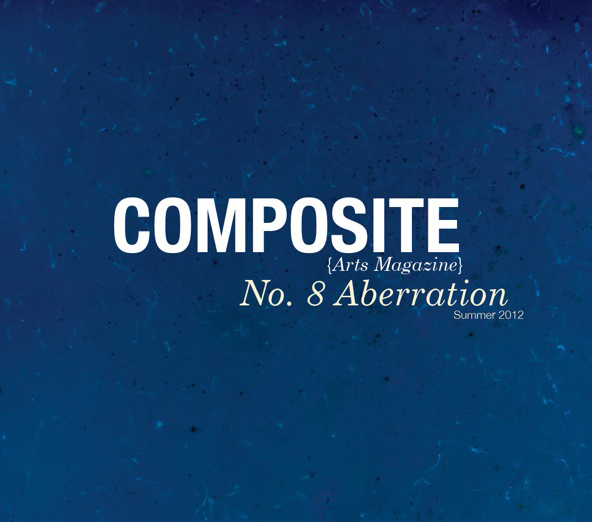 No. 8 Aberration
Summer 2012
We want control.
We are not being anal.
We are not being demanding, but rather stating the quintessential want of every breathing thing on this earth. We want to have dominion and conquest over the matter at hand. But when we are denied such a right that we believe we should have, all hell breaks loose.
The nineteen-hour rendered video we poured labor and soul into shows up as a conflagration of color and shapes whizzing by without rhyme or rhythm, renouncing our position as creator and insisting that it has no God.
The particle accelerator that once performed the miracle of gracing us with a mysterious and unknown element fails, after so many successive tries in recreating the elusive moment of impact, to produce the celestial second of awe.
Hearts broken, faith questioned, the validity of our existence comes to question.
Perhaps we have no control, no right to be creators of the decadent? That nothing made by us can make us genuflect?
Maybe this is needed to wake us up, to reveal the endured spirit that has sprinted after trial and trial, to show that the profane abomination, resulting from the loss of strict control, is glorious.
The anomaly has made it perfect.
The glitch has given us freedom from control and provided the task to work and labor at something that is significant.
Contributors
Giles Goodhead grew up in England before moving to Hotel California in the 1980s. He worked in the corridors of business for twenty years before turning to photography. He has exhibited his photo-mosaics in shows in the Bay Area during the last two years. He supports Arsenal football club and likes cheddar cheese. His work can be found at gilesgoodhead.com.
Carol Dorf's writing has appeared in Sin Fronteras, The Mom Egg, Sentence, Hip Mama: The Parenting Zine, The Prose Poem Project, Unlikely Stories, Helix, In Posse Review, Poemeleon, Fringe, The Midway, A Cappella Zoo, Feminist Studies, Heresies and elsewhere. She is poetry editor of Talking Writing.
Greyory Blake is a photographer, illustrator, and conceptual artist working out of Chicago, IL. His work can be found at greyory.com.
Malibu Pictures Club can be found at malibupicturesclub.com.

Carol Arnold was awarded New Millennium Journal's 2009 first prize for flash fiction, and Honorable Mention for her nonfiction work. She received Honorable Mention for a story in the John Steinbeck Short Story Contest sponsored by Reed Magazine. Her essays and stories have appeared in the Traveler's Tales anthology, Best Women's Travel Writing; Ars Medica, an anthology of medical literature; and numerous other literary journals and magazines. Her short essays have been featured on public radio. She is currently working on a novel.
Jeremy Bolen grew up moving throughout America, living in seven different states before turning 18. A recent recipient of the Provost Award for Graduate Research, Bolen will be using the award to travel to CERN, the European Organization for Nuclear Research, in Geneva, Switzerland, continuing his collaborations with experimental high energy particle physics. Bolen's work was recently exhibited at Roots and Culture, Chicago, Gallery 400, Chicago and Co-Prosperity Sphere, Chicago. Bolen will be exhibiting his work at Gallery 400, Chicago, Andrew Rafacz Gallery, Chicago and Hyde Park Art Center, Chicago. His work can be found at jeremybolen.com.
Jon Satrom undermines interfaces, problematizes presets, and bends data. He spends his days fixing things and making things work. He spends his evenings breaking things and searching for the unique blips inherent to the systems he explores and exploits.  By over-clocking everyday digital tools, Satrom kludges abandonware, funware, necroware, and artware into extended-dirty-glitchy-systems for performance, execution, and collaboration.  His time-based works have been enjoyed on screens of all sizes; his Prepared Desktop has been performed in many localizations. Satrom organizes, develops, and performs with I 'ô• PRESETS, poxparty, GLI.TC/H, in addition to other initiatives with talented dirty new-media comrades. See more at jonsatrom.com.
c. smith's work can be seen at visualdesolation.tumblr.com.
Cracked Ray Tube can be found at crackedraytube.com.
James Connolly (BFA with Emphasis in Art History, Theory, and Criticism, The School of the Art Institute of Chicago) is a video and new media artist, writer, curator, and realtime audio/video performer living and working in Chicago, IL. His videos have been screened at the 2010 GLI.TC/H festival in Chicago, the Floating World Animation Festival in Portland, Oregon, and the Townhouse Gallery in Cairo, Egypt. He has performed at the the Critical Glitch Artware Category at Notacon in Cleveland, the 2010 and 2011 GLI.TC/H festivals in Chicago, the 2011 Version Festival at the Co-Prosperity Sphere in Chicago, and the Guthman Musical Instrument Competition in Atlanta. He is currently the Assistant Curator of the Roger Brown Study Collection, a special collection of the School of the Art Institute of Chicago. His work can be found at jameshconnolly.com.
Kyle Evans Kyle Evans (MFA, The School of the Art Institute of Chicago) is a sound designer, computer musician, electronic instrument creator, and realtime video performer. While his educational background was focused toward experimental music and sound art, his collective artistic work ranges from music technology development to multimedia installation. He has invented many electronic musical and video instruments ranging from studio-based synthesizers and performance-based computer interfaces to electronic modifications and augmentations to acoustic instruments. His performances and installations commonly explore the relation between modern and obsolete technologies, breaking and repurposing, and the dialogue between performer and technology. His recent work has focused on utilizing the hidden capabilities and potentials of the now obsolete CRT television and the process of effectively bringing new life to a dead technology. He has performed and presented his work throughout the United States including the 2010 International Computer Music Conference (ICMC) at Columbia University in New York, the Pixilerations New Media Showcase at Brown University in Providence, the 2011 Milwaukee Avenue Arts Festival in Chicago, and the 2011 GLI.TC/H festival in Chicago. His work has been presented in several publications including Popular Science Magazine and Hand Made Electronic Music by Nic Collins. His work can be found at yaktronix.com.
Jessica McCaughey is a writer and teacher in the Washington, DC area. She earned her MA and MFA from George Mason University in Fairfax, Virginia. Her work has appeared in The Colorado Review, Silk Road Review, Best American Travel Essays 2011, and Phoebe, among other publications.
Kate Nartker was born in Napoleon, Ohio In 1979, and recently received her MFA From the California College of the Arts. Her work involves the use of digital tools and cinematic methods to introduce elements of time and movement to textile works. She received a Phelan, Murphy & Cadogan Fellowship From The San Francisco Foundation, as well as the Arts Award from the Northwest Area Arts Council. Kate Has exhibited throughout the Bay Area and internationally in Mexico City, Amsterdam, Bergen, Norway, And Berlin. She lives and works in San Francisco. Her work can be found at www.katenartker.com.
Christopher Meerdo (b.1981) is a Chicago based artist who grew up in the Upper Peninsula of Michigan and spent time in post-soviet Lithuania as a teenager. He has survived three near-death experiences including drowning and crashing in an airplane. Meerdo is a recent recipient of an MFA in Photography from the University of Illinois at Chicago. His work has been shown in numerous locations including Reykjavik, Nottingham, Seattle, Toronto, New York, and Chicago with recent exhibitions at Gallery 400, The Hyde Park Art Center, Roxaboxen and Roots & Culture in Chicago. Meerdo was recently an artist in resident at the SIM Residency in Reykjavik, Iceland and currently teaches photography at the Art Institute of Chicago. His work can be found at christophermeerdo.com.